Vital Signs Digital Boardgame | Single Player
Need an engaging way to learn vital signs?
---
This engaging digital board game promotes learning vital signs content through doing, winning, losing, and competing rather than just reading and progressing through slides.
After selecting a game piece, the learner starts their shift where they are presented with challenges, questions, and job-related scenarios to promote critical thinking and clinical application in the following five categories: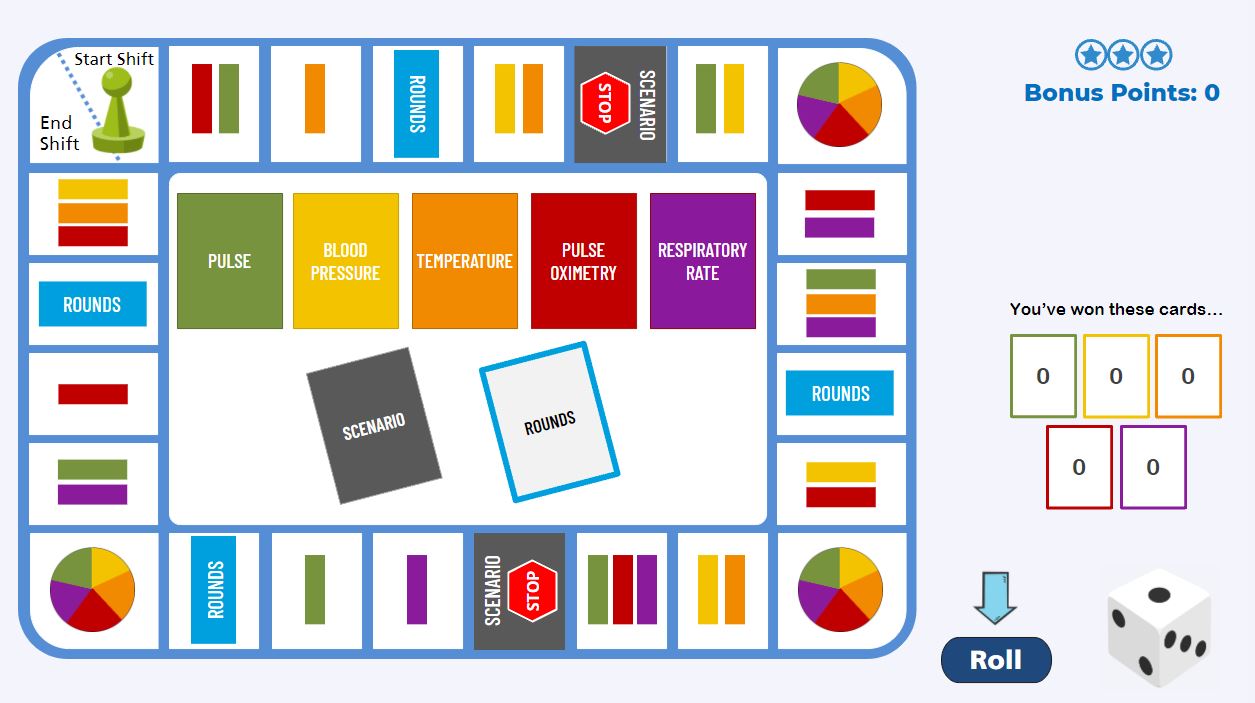 Pulse

Blood Pressure

Temperature

Pulse Oximetry

Respiratory Rate                                                                                                                                                                         
---
Play as many times as you like to improve your score. The goal is mastery of content!
---
If your organization would like the Vital Signs game customized to meet your learning needs, reach out with specific content customization quotes CNedSupport@mail457.jh.edu 
Target Audience
This course is perfect for all unlicensed assistive personnel including: clinical techncians, clinical nurse externs, ceritifed nursing assistants, and nursing students.
Learning Objectives
Identify normal vital sign ranges in the adults. 
Determine appropriate response to unstable or abnormal vital signs. 
Identify early trends in vital signs indicative of sepsis, hypoxia, and myocardial infarction.
Explain the importance of accurate I&Os and daily weights in the patient's plan of care.
Differentiate the UAP scope of practice from the RN. 
Understand the importance of reporting all patient information to the RN.
Angela Malicki
Multimedia and Learning Technology
By registering for this course, you agree to these terms:
All intellectual property and copyright in this course and its accompanying materials and derivatives is held solely by Multimedia and Learning Technology of the JHHS. These materials may not be modified, redistributed, or reproduced in any form or by any means, electronic or mechanical, including photocopying, recording, or by any information storage and retrieval system without PRIOR authorization from Multimedia and Learning Technology of the JHHS.