Johns Hopkins Evidenced-Based Practice Book Launch Party July 12
Johns Hopkins Evidence-Based Practice for Nurses and Healthcare Professionals
has proven to be one of the more foundational books on EBP in nursing and healthcare. Building on the strength of previous versions, the fourth edition is fully revised to include updated content based on more than a decade of the model's use, refinement in real-life settings, and feedback from nurses and other healthcare professionals around the world.
---
Join our virtual book launch party and hear directly from the authors why this book remains an essential part of your EBP toolkit as well as how the EBP model and tools have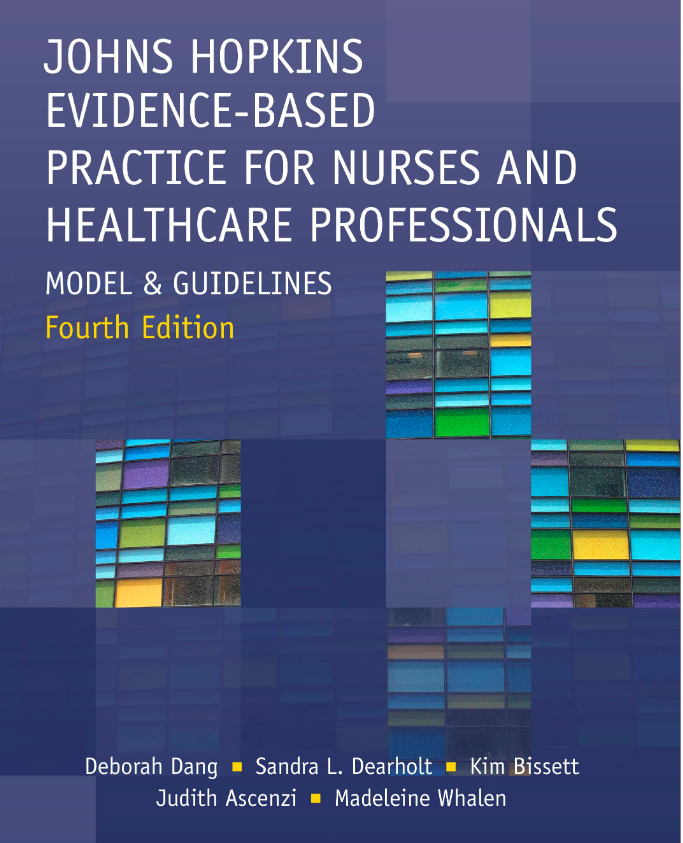 improved. 
Have questions? Submit them to the authors HERE.
Time: The live session will be presented during eastern standard time.
Equipment: You will need a computer with internet access, a webcam, and a microphone. Live sessions will be presented virtually via Zoom.  Please test your computer's video and audio prior to the event.
Photo/Video Permission: During the event, photos or videos may be taken for the Institute for Johns Hopkins Nursing (IJHN) promotional purposes. To opt-out, click here.
ADA: In accordance with the Americans with Disabilities Act, please contact us if you have any disability that requires special material or services so that appropriate personnel can be advised.
Meet the Authors:
Maddie Whalen, MSN/MPH, RN, CEN 
Sandra Dearholt, DNP, RN, NEA-BC
Newhouse, Robin P, PhD, RN, NE-BC, FAAN 
Michelle Patch, PhD, MSN, APRN-CNS, ACNS-BC 
Jennie Peterson, PhD, APRN-CNS, CCNS, FAHA
Judy Ascenzi, DNP, RN, CCRN-K
Kim Bissett, PhD, MBA, RN
* IMPORTANT -  PLEASE READ *
After registering you will receive an email confirmation with your Zoom link.
---
Make sure to check your SPAM folder and add our email address ijhn@jhmi.edu to your "safe list" to receive all workshop information.
Required Hardware/software
Computer with internet access, webcam, and microphone.
The live session will be presented virtually via Zoom.  Please test your computer's video and audio before the event.