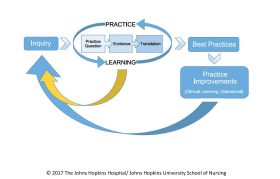 Johns Hopkins Evidence-Based Practice Course | VHA
The Johns Hopkins Nursing EBP Model is a powerful problem-solving approach to clinical decision-making, and is accompanied by user-friendly tools to guide individual or group use. It is designed specifically to meet the needs of the healthcare professional.
This course is an engaging online experience, containing interactive elements, self-checks, instructional videos, and demonstrations of how to put EBP into use.  
---
PERMISSION TO USE MODEL AND TOOLS
To obtain permission to use our model and tools, submit this form.