Advanced Nursing Leadership Academy | May 3-5, 2017 **FULL**
May 3, 2017

to

May 5, 2017
As you advance in your leadership career, you face increasingly complex issues and decisions, changes in patient care delivery, and resource constraints. This course will help you tackle those challenges head on!  
This engaging 3-day program combines lecture, self-assessment, discussion, and small group activity. It is followed by 3 one-to-one personal coaching sessions.  Faculty include expert nursing executives from the Johns Hopkins Health System and Johns Hopkins University School of Nursing.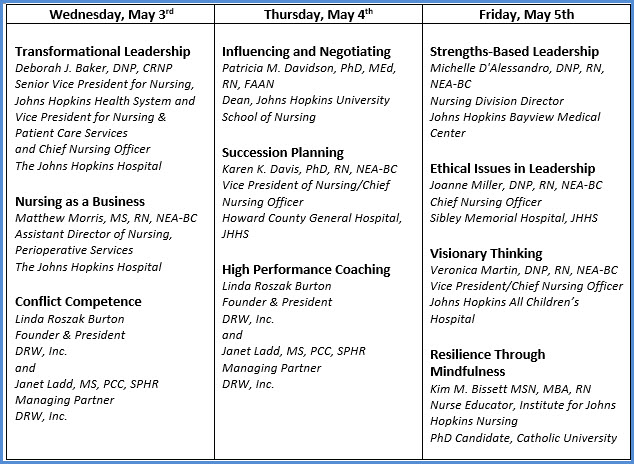 One-to-One Coaching Sessions After the Program
This is truly a unique opportunity!  Included with this course are 3 one-hour individual executive coaching sessions by International Coach Federation-accredited experts from DRW Coaching, Inc.  In addition to creating an opportunity for leaders to experience coaching first-hand, this supports the goal to ensure knowledge you gain during the program will be assimilated and practically applied once you return to work.
Following the introductory call, three coaching sessions will be facilitated over the course of 3 months.
Session 1: Explore overall learnings, insights, and identified developmental needs. Specific goal(s) for development and initial strategies to support growth will be defined.
Session 2: Coach and leader will connect within one month of session 1 to discuss insights, progress, challenges, and next steps.
Session 3: Coach and leader will, again, connect within one month of session 2 to discuss progress, insights, challenges, and ideas for continued progress and sustainability.
See You At The Ball Park!
Baltimore is a baseball town and we would like to "take you out to the ballgame!"  The Orioles will be playing the Chicago White Sox on Friday, May 5th at 7:05.  A complimentary ticket and transportation to Oriole Park at Camden Yards is included with your registration.  What a great way to end your 3-day leadership course – baseball, peanuts and Cracker Jacks!  Don't miss an opportunity to visit one of the top ranked baseball stadiums in the USA!  
 
---
Registration fee:  Includes all course materials, three individual one-hour executive coaching sessions, daily continental breakfasts, and lunches, ticket and trasnportation to Baltimore Orioles baseball game, and certificates.
Location:  This program will be held in Baltimore, MD, at the Admiral Fell Inn 888 S Broadway, Baltimore, MD 21231
Accommodations: The Admiral Fell Inn is offering rooms at a special rate of $149/night plus tax. When reserving your room, please request the Hopkins rate. (This discount does not apply if booking done through a 3rd party, e.g., hotel.com.)  There are also many other hotels in Fells Point and Harbor East areas within walking distance.
Group Pricing: For groups of 3 or more from the same organization registering together and JHHS/JHU SON nurses- special pricing available at $2295 per person. 
Target Audience
WHO SHOULD ATTEND THIS PROGRAM? 
This course is a natural progression from our Nursing Leadership Academy, although it is not necessary to complete that program before enrolling in this course.
Perfect for experienced nursing leaders who need to learn strategies and skills to manage the dynamic changes of the healthcare workforce and system. 
Learning Objectives
WALK AWAY WITH THE KNOWLEDGE AND SKILLS YOU NEED TO TAKE YOUR LEADERSHIP TO THE NEXT LEVEL
TRANSFORMATIONAL LEADERSHIP
Identify outcomes of transformational leadership.
Describe the key attributes of transformational nurse leaders.
Identify strategies to use to develop transformational leadership qualities.
NURSING AS A BUSINESS
Identify business models for health care organizations.
Describe fundamental concepts of economics.
Describe strategies for managing financial and human resources.
CONFLICT COMPETENCE 
Using the Conflict Dynamics Profile (CDP®) instrument, develop insights surrounding one's natural reaction to conflict, including their strengths in responding to conflict and opportunities for personal growth and development.
Manage situations and individuals that provoke and escalate conflict by identifying personal "hot buttons" that can destabilize the situation, and by implementing "cooling strategies" to defuse tension and regain focus on outcomes and objectives.
Identify specific strategies for greater competence and confidence moving forward.
INFLUENCING AND NEGOTIATING 
Identify strategies for asserting your views and achieving outcomes through engagement of stakeholders.
Describe fundamentals of negotiation.
Identify practical solutions for handling difficult negotiations.
STRENGTHS-BASED LEADERSHIP 
Complete the StrengthsFinder 2.0 assessment.
Describe how to use your strengths to maximize your leadership ability.
List the four basic needs of those who look to you for leadership.
HIGH PERFORMANCE COACHING 
Describe the value of a coaching culture in today's dynamic healthcare environment 
Differentiate coaching from related disciplines, including mentoring, management, counseling and training. 
Describe a basic coaching framework to support effective coaching conversations. 
Practice coaching, including the skill of powerful questioning, to support transformational coaching skills and confidence. 
SUCCESSION PLANNING 
Describe strategies for developing a leadership succession plan. 
Identify mechanisms that provide for early identification and mentoring of staff with leadership potential. 
Describe methods for mentoring current and future nurse leaders. 
ETHICAL DILEMMAS IN LEADERSHIP 
Identify principles for upholding ethical standards in leadership.
Describe actions to take in select ethics-related case studies.
VISIONARY THINKING 
Describe the use of systems thinking in problem solving and decision making.
Identify key components of strategic planning.
Describe the impact of nursing decisions on the healthcare organization as a whole.
List examples of innovative thinking/planning, including innovative staffing/care delivery models. 
RESILIENCE THROUGH MINDFULNESS 
Define mindfulness.
Identify 3 ways mindfulness improves leadership.
Formulate a plan to integrate mindfulness practices and strategies into your life.
Admiral Fell Inn
888 S Broadway
United States
Deborah J. Baker, DNP, CRNP 
Senior Vice President for Nursing
Johns Hopkins Health System
Vice President for Nursing & Patient Care Services 
and Chief Nursing Officer                
The Johns Hopkins Hospital

Janet Ladd, MS, PCC, SPHR
Managing Partner
DRW, Inc.


Kim M. Bissett MSN, MBA, RN
Nurse Educator
The Institute for Johns Hopkins Nursing

Veronica Martin, DNP, RN, NEA-BC
Vice President/Chief Nursing Officer
Johns Hopkins All Children's Hospital

Linda Roszak Burton
Founder & President
DRW, Inc.

Joanne Miller, DNP, RN, NEA-BC
Chief Nursing Officer
Sibley Memorial Hospital, Johns Hopkins Washington, DC 

Patricia M. Davidson, PhD, MEd, RN, FAAN
Dean
Johns Hopkins University School of Nursing

Matthew Morris, MS, RN, NEA-BC
Assistant Director of Nursing, Perioperative Services
The Johns Hopkins Hospital

Karen Keady Davis, PhD, RN,NEA-BC
Vice President of Nursing/Chief Nursing Officer
Howard County General Hospital
 
 
Accreditation Statemen
t: The Institute for Johns Hopkins Nursing is accredited as a provider of continuing nursing education by the American Nurses Credentialing Center's Commission on Accreditation.  
Statement of Contact Hours
: This 20.0 contact hour educational activity is provided by the Institute for Johns Hopkins Nursing. 
Conflict of Interest
:  It is the policy of The Institute for Johns Hopkins Nursing to require our continuing nursing education program faculty and planning committee members to disclose any financial relationships with companies providing program funding or manufacturers of any commercial products discussed in the program.  The planning committee and program faculty report that they do not have financial relationships with manufacturers of any commercial products they discuss in the program. 
Commercial Support
:  This educational activity has not received any form of commercial support. 
Non-Endorsement of Products
:  The Institute for Johns Hopkins Nursing and the American Nurses Credentialing Center does not endorse the use of any commercial products discussed or displayed in conjunction with this educational activity. 
Cancellations
: All cancellations must be received in writing 2 weeks prior to the event. Cancellations received 2 weeks prior to the event will be refunded the event cost less a $200 administrative fee. We are unable to make refunds after the 2 week deadline. IJHN reserves the right to cancel or postpone any activity due to unforeseen circumstances. In this event, the IJHN will refund the registration fee but is not responsible for travel expenses. 
Photo Permission
: During the event photos may be taken for IJHN promotional purposes. To opt out click
here
.