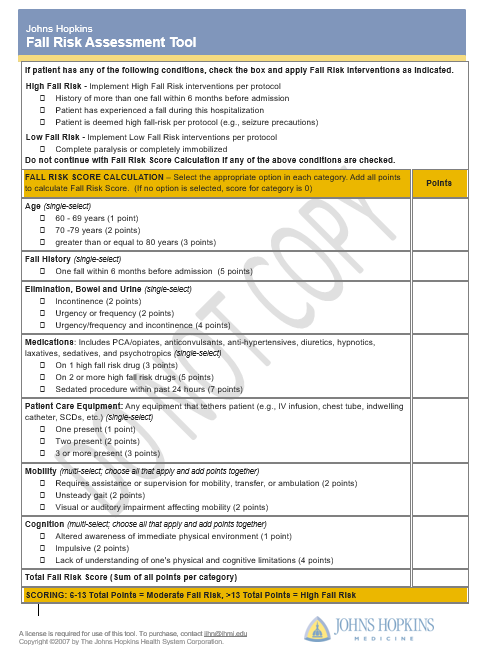 The Johns Hopkins Fall Risk Assessment Tool (JHFRAT)
was developed as part of an evidence-based fall safety initiative.  This risk stratification tool  is highly effective when combined with a comprehensive protocol, and fall-prevention products and  technologies. The JHFRAT is currently being used in hundreds of hospitals worldwide.  Your facility may now purchase a license to use this tool (each facility/hospital within a health system requires a separate license).
The one-time $850 fee includes:
License to use it in one facility in electronic and/or paper form
PDF file of the tool (to use as a paper document or have embedded into your EHR)
PDF file of the Johns Hopkins Fall Prevention Guidelines by Risk Category
PDF files for three publications by Johns Hopkins experts about the effectiveness of the tool

Poe, SS; Cvach, MM; Gartrell, DG;  Radzik, BR; Joy, TL. "An Evidence-based Approach to Fall Risk Assessment, Prevention, and Management Lessons Learned." J Nurs Care Qual. 2005; 20(2): 107–116.
Poe, SS; Cvach, M; Dawson, PB; Straus, H; Hill, EE. "The Johns Hopkins Fall Risk Assessment Tool Postimplementation Evaluation." J Nurs Care Qual. 2007; 22(4): 293–298
Poe, SS; Dawson, PB; Cvach, M; Burnett, M; Kumble, S; Lewis, M; Thompson, CB; Hill, EE. "The Johns Hopkins Fall Risk Assessment Tool: A Study of Reliability and Validity." J Nurs Qual. 2017; 00(00): 1-10.

Unlimited access for your hospital's staff to the online course describing its use.
One-page summary to share with your colleagues
Please begin this process by completing and submitting this form.  After reviewing your information, we will email you a link from which you may access and/or download the items described above.
For your careful review: Legal terms and conditions